This past week something really exciting happened. After weeks of work, our brand new website finally went live! If you've been on the site in the past week then you'll notice it's gotten a total facelift, and it's one we hope will make life much easier for all of our patients!
There were a lot of factors that went into us making the decision to change the site. We wanted a website that was simple and clean, that was mobile optimized so our patients could access it on the go, and that presented valuable information in a clear and helpful way. We didn't feel like we were able to accomplish all of that with our old website, so we decided it was time to make a change!
We couldn't be more excited about our new site. We think it's going to be a great resource for our patients, one that's simpler to use and enjoyable to be on. That being said, there are some new features that you'll want to know about that we believe will improve your user experience. Some of the things you'll see on our new site?
New, modern design.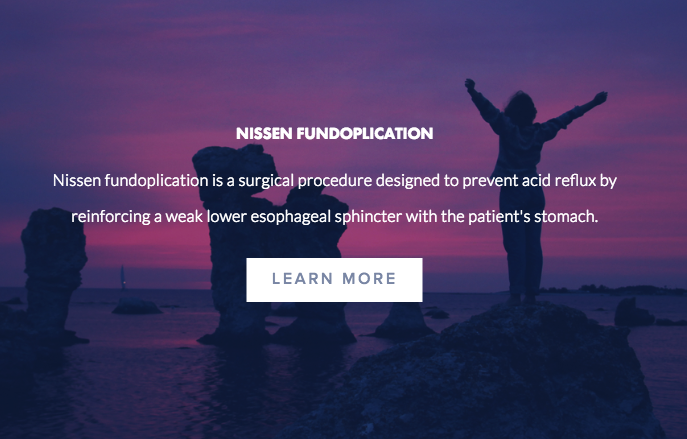 Online scheduling capability.
It's the 21st century, and we recognize that sometimes you just don't have the time to call or drop by an office in order to schedule your appointment. That's why we've made it possible for patients to schedule their appointments online using a simple form. Fill it out, pick your desired date and time, and we'll reach out to you to finalize everything!
Individual treatment pages for each surgery type.
Our old site just had one treatment page with a ton of information. We kept that over-arching treatment page when we switched over, but we also thought each individual treatment option deserved a chance to shine. We created pages designated to each surgery type: TIF, Lap Nissen, and Linx. That way you can learn about the surgery you're actually interested without having to wade through details about the other ones!
Acid Reflux Resources blog.
This is probably one of the most excited parts about our new site! We've put a big emphasis on showcasing our new blog, where we'll be posting articles chock full of information about dealing with reflux, GERD, and heartburn. We post weekly, so check in to see what new information has hit the site! We also share the updates through our Facebook page, so you can follow us there to stay in the loop.
GERD relief booklet.
In case you didn't know, Dr. Grandhige wrote a book about finding your path to relief after being diagnosed with GERD. It's super informative, and it guides patients through every aspect of deaing with the disease, from diagnosis to life after treatment. It's awesome, and we thought everyone should get a chance to actually read it! We've got a downloadable version on the new site, but you can also flip through and read it on the actual site as well. Pretty cool, huh?
There's clearly a lot we love about our new site, but we want to know what you think, too! Have ideas on what might make it even better? See something you'd like to be added? We'd love to hear your feedback. Leave your comments below, and hopefully we'll be able to make those changes for you! Our site is for our patients, and we want it to be everything you've ever wanted.